Scott County Baseball is a 488 page book with more than 300 photographs and an index of 1600 names about the history of baseball in Scott County. I have been working on the book for four years and it will be available in early spring of 2008.

The book records the history of baseball in Belle Plaine, Elko, Jordan, Marystown, New Market, New Prague, Savage, St. Benedict, St. Patrick, Shakopee, and Union Hill, including interviews and articles about outstanding players. Each chapter records the results of every state tournament game, including game summaries and statistics, as well as team photographs, player names, and game box scores when available.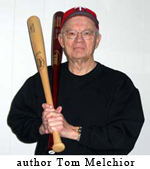 What else is included in Scott County Baseball?
The first chapter highlights the careers of the nine Scott County members in the Minnesota Amateur Baseball Hall of Fame.
Chapter two focuses on three players who had more than 1000 career hits—Paul Buss, and Ron Beckman from Jordan, and Ty Dombeck from Elko. There may be more, but none are documented.
"Kicking": Scott County baseball has a rich history. Baseball games were filled with more than base hits and strikeouts. During the years before organized leagues were formed, many players were involved in "kicking" (arguing, fighting, and quitting). Here's one of many examples of "kicking."
May 25, 1904: Belle Plaine Herald
Henderson Forfeits Game. Contest Marred by the Action of Visitors in Leaving Grounds.
"August Bosel tried rough work with Burns by blocking him, roughly pushing and rubbing in his elbow uncomfortably. He waded into his bigger antagonist. They clinched, but several Belle Plaine players near first promptly separated the combatants.
"Suddenly a fan by the name of Mr. Wiest raced across the diamond and kicked Burns in the face. A police officer arrested Wiest and removed him from the diamond. A few of the Henderson players used this arrest as a pretext for not continuing the game. The umpire forfeited the game to Belle Plaine."
For drama, nothing quite matches the thrill of watching a pitcher go after a no-hitter. This chapter includes a history of those games. The first documented no-hitter was thrown in Scott County in 1905 by Shakopee's "Shooty" Niedenfuehr and the last in 2006 by Elko's Brian Muell. Many were thrown between these years. Here's one from that chapter.
August 6, 1953
Marystown Pitcher Hurls Perfect No-Hit, No-Run Game
"James Busch, 17-year-old pitcher for the Marystown team, carved himself a niche in the Dakota-Rice-Scott league Hall of Fame Sunday when he turned in a no-hit, no-run performance against Veseli. Marystown won, 1 to 0, in the last regular scheduled game prior to the playoffs."
Were amateur ball players paid?
In 1905 Belle Plaine hired a former major league pitcher. Jordan later hired the same player. "Money, Money, Money" documents that players were hired as late as 1957.
Chapter 5 records the history of the Class A Minnesota River League teams from 1947-1957: Belle Plaine, Jordan, New Prague, Shakopee, and New Prague. Every team in the league hired at least two players legally. This chapter summarizes each team's performance, including box scores.
Many professional players took their positions on the diamonds of Scott County. Some formed all-star teams to make extra money. In September of 1947 "Babe" Barna and other Minneapolis Millers (Class AAA) took the field against the Belle Plaine Tigers. In 1948 the Shakopee Indians and a few all-stars from Jordan and Chaska took on a team of played who were banned from professional ball and played in the Mexican League. New York Giants ace Sal "the Barber" Maglie pitched for the professional all-stars.
During World War II many ball players served in the Armed Forces and only a few towns were left with enough players to field teams. A few Belle Plaine men joined the Jordan team; Prior Lake and Shakopee combined to form a team, and players from St. Benedict joined the players from Union Hill.
The chapter, "There Used to Be a Ball Team Right Here," focuses on Cedar Lake, Credit River, Eidswold, Lydia, and Shakopee's Two Bens.
"The Longest Game" includes interviews, the box score, and copies of the score book pages from the longest game ever played in the county, a 24-inning marathon between Shakopee and St. Peter in 1950.
From the late 1950 through the early 1970, players and fans eagerly awaited the arrival of that game's Northwest umpire. He brought with him copies of the "Northwest Umpires Review," which contained league standings and individual batting averages. Copies of the final issue of the Northwest Umpires Review from 1958, 1962, 1968, and 1971 are included in the book as well as the names and batting averages of the leading hitters from the River Valley and D-R-S leagues from 1961, 1963, 1964, 1965, and 1970. In 1964 Pat Devitt from Prior Lake hit .561, to lead the River Valley League, and in 1968 Dick Schmitz from New Market led the D-R-S with .403.
The price of the book is $25.00, which does not include sales tax or shipping. The book will be available in April or May. Copies may be purchased at that time from the Scott County Historical Society in Shakopee and at designated sites. Please watch for further information once I have received the books.
I plan to print 350 copies of the book. This will be a one-time printing. No books will be sold at book stores. If you would like to order a copy or copies in advance, please contact me at one of the following: [email protected] or 952-445-4109 or
Tom Melchior
1901 125th St. W
Shakopee, MN 55379